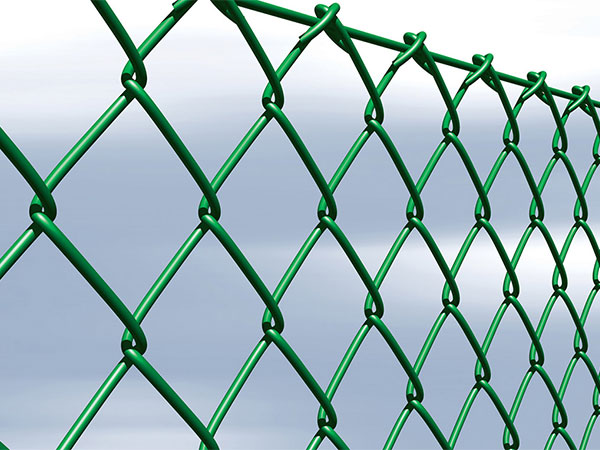 PVC Coated Chain Link Fence
---
Wire Material: Low carbon steel wire, galvanized steel wire
Opening Shape: Diamond
Opening Size: 25*25 mm – 100*100 mm (1″-4″)
Wire Diameter: 1.2 – 5 mm
Common Colors: Black, green, blue, white, yellow, grey, etc.
---
PVC Coated Chain Link Fence
PVC coated chain link fence is a popular fencing option because of its durability and beautiful appearance. It is also known as vinyl coated chain link fence, which comes in a variety of colors, heights, opening sizes, etc. The chain link fence of Wanzhi Steel is woven with galvanized wires or carbon steel wires into mesh with diamond openings. And then it is coated with polyvinyl chloride (PVC) in various colors, such as green, black, white, etc. You can choose according to your architectural style or surroundings. For more details, please feel free to contact us!
PVC Coated Chain Link Fencing For Sale
| | |
| --- | --- |
| Item | PVC Chain Link Fence |
| Wire Material | Low carbon steel wire, galvanized steel wire |
| Opening Shape | Diamond |
| Surface Treatment | PVC coated |
| Opening Size | 25*25 mm – 100*100 mm (1″- 4″) |
| Wire Diameter | 1.2 – 5 mm |
| Mesh Height | 0.5 – 4 m or be customized |
| Mesh Width | 5 – 25 m or be customized |
| Common Colors | Black, green, blue, white, yellow, grey, etc. |
Applications
Because of its durability, affordability, and versatility, PVC-coated chain link mesh is widely used in commercial, residential, and industrial applications, for example,
1. Athletic enclosures or fences for sports fields, basketball courts, playgrounds, gardens, parks, pools, etc.
2. Fence for riverbank, highway, railway, airport, and slope protection mesh, etc.
3. Breeding of animals, dog cages, chicken loops, rabbit fencing, etc.
4. Residential fence for security or parking lots, gates;
5. Industrial uses, such as security partitions, temporary fencing, etc.
PVC Coated Chain Link Fence for Plant Climbing
Plant fast-growing vines, such as petunias or ivy, so that they climb over the fence. This will make your fence more beautiful. In addition, you can also plant petunias. Petunias are annuals that grow very fast. They can reach a height of 10 feet and come in different colors such as pink, blue and purple. The flowers will be more attractive when paired with different colors of PVC coated fences.
Features
1. Excellent Corrosion Resistance & Durability
Polyvinyl chloride coating provides protection against rusting and corrosion. It can also withstand extremely hot weather and ultraviolet rays. That's why PVC coated fence is more long-lasting and durable than galvanized fencing.
2. Flexible Structure & Easy Installation
Link galvanized diamond mesh, PVC coated chain link wire mesh is of flexible structure. It is easy to process for many applications. Besides, it is light in weight, which makes it easy to install.
3. Various Colors & Beautiful Appearance
PVC coated products are available in various colors, which can be used for decorative purposes. We also offer custom solutions according to your requirements.
4. Thornless & Safe to Touch
The surface of ordinary chain link wire mesh will become rough and the chain link will become sharp after a long time of use. When people touch it, clothes may be caught. While the surface of PVC coated chain link fence is smooth and thornless. When people touch it will not be scratched. It is very safe.
5. Longer Service Life
Polyvinyl chloride material will extend the potential life of your hook and loop fence. It will protect your fence from elements such as rain and UV rays. This means that the metal is better protected. As a result, the entire fence will last longer than a traditional chain link fence.
Manufacturing Process of PVC Chain Link Fence
PVC-coated chain link fencing is a woven wire fence, which is then coated with polyvinyl chloride to prevent rusting. In this process, the wires are manually connected by rotation. Some are first coated with zinc through a hot-dipped or electroplating process, namely, galvanized wires. Then it is covered with a vinyl polymer coating that helps prevent rusting and offers more color options. Vinyl coating is made of synthetic resin or plastic. It is not easy to scratch, rust,  crack, etc. The production process is very simple, which is mainly finished by fully automatic machines. That's why it is affordable.
Weaving Characteristics
PVC coated chain link fencing is generally coated with PVC before weaving. The woven diamond pattern provides a strong, durable and flexible structure. The dense diamond-mesh structure makes the fence very resilient. It prevents animals from breaking out of the farm and keeps predators out.
Different Colors of PVC Coated Chain Link Fence
PVC coated chain link fence has many colors to choose from, such as black, white, and green. Therefore, it can be applied to different projects. Wanzhi Steel can customize it according to your requirements. Next, we take you to know a few of its common colors.
1. Black Chain Link Fence
Black chain link fence is often used in residential and commercial settings. It is available in different mesh sizes and wire gauges. Black color gives an atmospheric impression and can be applied to different places.
2. White Chain Link Fence
From the appearance alone, white is a color that represents purity and cleanliness. White chain link fence is more conspicuous and can be easily noticed.
3. Green Chain Link Fence
Chain link fences are often considered "green". Green PVC-coated chain link fence is most often used in playgrounds, stadiums, parks, etc. It gives a feeling of nature and is very popular.
Installation of Plastic Coated Chain Link Fence
Before installing the fence you should determine the height, location, and other factors limiting the fence. This will save you some unnecessary troubles subsequently. Here is how it is installed for your reference. If you still don't know how to install it properly, consider asking the installation company for help.
1. Measure the space of your enclosure and then determine the space of posts.
2. Dig the holes for posts. The hold sizes should depend on the geographical location, fence height, and fencing materials.
3. Stick posts by actually pouring the cement in the hole first and then 'sticking' the post in the wet cement.
4. Install post fittings, as well as top and bottom rail.
5. Install tension wire and then stretch the chain link fabric.
What Should You Consider Before Choosing A Fence?
When you decide to buy a fence, you should consider the following things:
1. Determine the Size You Need
First, you need to calculate the area you need to cover. What size of fence is suitable for your project. You will be able to make better purchases after you clearly understand this.
2. Your Use
What kind of an occasion is your fence going to be used for? This is one of the questions you need to consider. If you want to protect your property, then you should choose a fence with thicker wire diameter and smaller mesh holes. If you just want to decorate your garden, then accordingly you can choose some fences with brighter colors.
3. Determine the Budget
One more thing you need to take into account when you have the intention of buying a fence is your budget. You can compare the prices given by several suppliers and find out the best option from them. However, you need to remember that you should not just look at the price alone, but also focus on the quality.
How to Maintain the PVC Coated Chain Link Fence?
Even a PVC coated fence will still rust after a long period of use. If the coating is damaged or scuffed, it will accelerate its rusting speed. So, how to maintain it? Wanzhi Steel tells you the answer.
1. Clean Your Fence Regularly
The chain-link fence is easy to clean. You just need to use water regularly to remove dirt and debris from its surface. For the more difficult areas to clean, you can use a cotton towel and soapy water to wipe them down. Cleaning your fence regularly will keep it looking great.
2. Avoid Climbing Fences
There will always be people who try to have fun by climbing the fence. This is bad behavior. Doing so can damage the coating on the fence and accelerate the deterioration of the fence. Therefore, if you want your fence to last longer, always avoid climbing the fence.
3. Ask the Experts for Help
If you find that you have extensive damage to your fence, this is a time when you can't fix it on your own. You can contact an expert to solve the problem. In addition, you can also consider replacing your fence. Wanzhi Steel offers PVC coated chain link fences and galvanized wire mesh fences. You can contact us for more details!
PVC Coated Chain Link Fencing Price
The price of PVC coated coated chain link fencing will be different with several factors, including the wire, wire diameter, mesh size, the thickness of PVC coating, and the color of polyvinyl chloride required. For example, PVC GI wire mesh will be more expensive than that uses carbon steel wire without galvanizing. In addition, shipping costs and taxes also need to consider. PVC chain link mesh has features of durability, affordability, and versatility. Besides, it is easy to install, which is friendly to end-users. So it will be a great investment project. If you are planning to buy it, please contact us for the latest price. Wanzhi Steel will also provide great discounts for bulk orders.
About Wanzhi Steel
Wanzhi Steel is a renowned manufacturer and supplier of steel wire and mesh products. Our products include galvanized wire, galvanized razor wire, GI mesh and fence, PVC-coated wires, meshes and fencing. Various diameters, opening sizes, designs and materials are available. More than that, Wanzhi Steel has its own factory to offer you a direct sale price. We also developed a multi-language team to serve clients all over the world. Welcome to talk with us for more details.