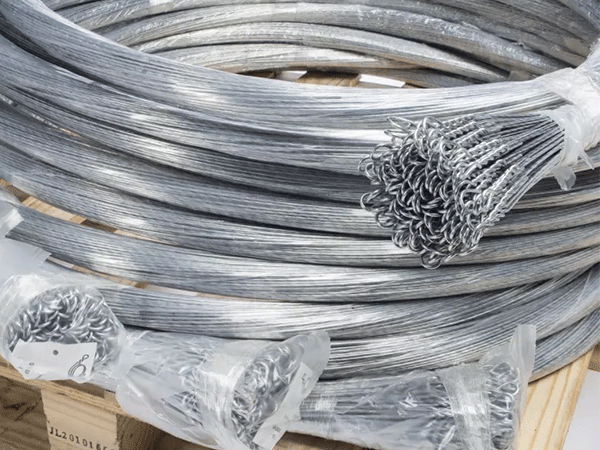 Baling Wire for Sale
---
Material: Galvanized, stainless steel, black annealed
Wire Diameter: 0.45 mm – 5.0 mm (#26 – #6)
Coil Weight: 5kg – 500 kg or as per your requirements
Main Use: Binding wire
---
Baling Wire for Sale
Baling wire for sale is a versatile material. It is often used in agricultural and industrial applications because of its sturdiness, durability, and flexibility. It can be used to secure materials such as hay bales, wood, cardboard, plastic, textiles, etc. for easier storage and transportation. Wanzhi Steel offers baling wire in different materials, such as galvanized, stainless steel, black annealed, etc. You can customize baling wire with different wire gauges from us for various applications. Contact us now for more details!
What Is Baling Wire Used For?
Baling wire is often used for a variety of bundling applications, such as in the recycling industry, construction, agriculture, etc. The following are its specific uses.
1. For the Recycling Industry
Baling wire can effectively organize and store waste products. It is essential in the recycling industry. It is often used to bundle and secure compacted waste bales. Some recyclable waste materials, such as cardboard, plastic, paper, etc., can be baled into bundles with this wire and transported to designated places.
2. Construction Industry
Bale wire has enough strength to hold the load. Therefore, it can be used in the construction industry to bind steel. You will find that baling wire is often used on construction sites when workers are fixing steel bars. This is because it is flexible enough to be bent into different shapes and still be strong.
3. Agriculture
Baling wire has been used in the agricultural industry for a long time, such as baling hay and straw. Nowadays, it is still very popular as an important part of people's agricultural work.
Features of Baling Wire
1. Sturdy and Durable
The baling wire produced by Wanzhi Steel is made of high quality raw materials. They will not break or fall apart easily when baling materials. Also. These baling wires are strong enough for various applications. Therefore, they will not be scratched or broken due to pressure. In short, baling wire is a very durable baling material that can be used for a long time.
2. Anti-corrosion and Rust Prevention
Baling wire is often galvanized to extend its life and corrosion resistance. Galvanizing provides a layer of protection for the wire. The zinc layer is corrosion resistant. In addition, if you want a wire with superior corrosion and rust resistance, you can choose stainless steel baling wire.
3. Machinability
Baling wire is easily formed to fit any application and tolerance. Also, it can be drawn into different wire gauges to meet different project needs. You can choose according to the actual situation.
Types of Baling Wire
1. Single Loop Baling Wire
Single loop baling wire is a strapping wire with a single loop at one end. It is very flexible and can be cut manually to any length.
2. Double Loop Baling Wire
Double loop baling wire is a strapping wire with loops on both sides. Its unique design eliminates the need for users to bend the wire. They simply hook the two loops of the baling wire together and twist the wire in one direction to form the bundle.
Besides, baling wire is divided into different materials. Next, let's review it.
Galvanized baling wire
Stainless steel baling wire
Black annealed baling wire
Which One Is Right for Me?
Galvanized steel is preferred in applications exposed to outdoor environments and high humidity. This is because the zinc layer on its surface protects it from rusting easily. Stainless steel baling wire has the same corrosion and rust protection and is superior. But it is more expensive. Black annealed baling wire is flexible and ductile, and the price is right. If you are planning to buy baling wire, you can decide according to your actual needs.
Things to Consider When Buying Baling Wire
Many people focus only on quality when buying baling wire. In fact, there are many factors to consider besides that. Next, Wanzhi Steel will take you through more of the things you need to consider to get the right baling wire for you.
1. Confirm Wire Gauge
Baling wire is available in different gauges, such as 9, 12, and 14 gauge baling wire. The smaller the number the thicker the wire. Before you buy, you should determine what gauge of wire you need for your project. Knowing this well will make your shopping quicker.
2. Checking the Size
The correct length of the baling wire is crucial. This requires that you need to check the dimensions of the wire. You should measure the length, width, and height of the wire correctly and then confirm the actual size you need. It is worth noting that it is wiser to buy baling wire that is slightly longer than the size you need.
3. Evaluate Tensile Strength
Before purchasing baling wire, you can ask the manufacturer to send you samples. Perform a final test on these sample baling wires for their ability to withstand stress. If they meet your project's needs for tensile strength, then the manufacturer is worthy of your trust.
Buy High Quality Baling Wire from Wanzhi Steel
Wanzhi Steel, a leading baling wire manufacturer in China, is committed to providing the highest quality automatic baling wire to customers in every industry. With over a decade of experience in the industry, we understand the importance of flexible and strong wires for many applications. We can help you find the best baling wire for you, from various diameters to a wide range of materials. In addition, we will provide you with a competitive price. Contact us now to get a quote. We look forward to working with you.