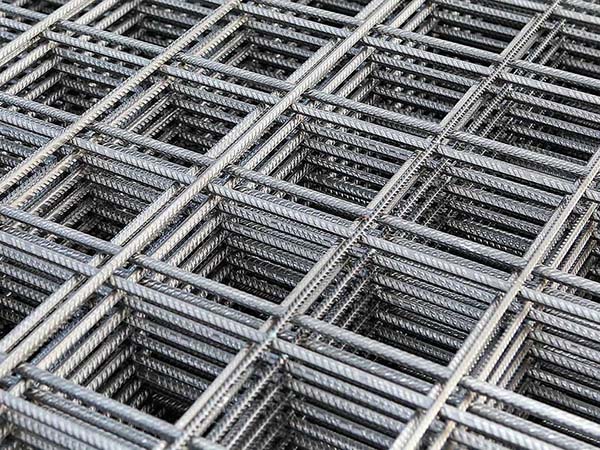 Galvanized Concrete Mesh
---
Opening Shape: Rectangular or Square
Wire Diameter: 4 – 18 mm
Hole Size: 100 – 200 mm
Packaging: In Panels
---
Galvanized Concrete Mesh
Galvanized concrete mesh is a kind of welded wire fabric, which is an irreplaceable part of modern construction. It is made of high tensile steel wire, which is welded into square or rectangular mesh for concrete reinforcement uses. It is widely used in industrial and civil houses, including beam, floor, roofing, wall panels, concrete pavement, bridge pavement, tunnel lining, etc. Wanzhi Steel is a leading manufacturer of steel mesh products. We offer various galvanized reinforcing meshes in different diameters, opening sizes and mesh sizes. Welcome to contact us for more details!
Specifications of Galvanised Concrete Mesh
Material: Carbon steel wire
Surface treatment: Galvanized
Opening Shape: Rectangular or Square
Wire Diameter: 4 – 18 mm
Hole Size: 100-200 mm
Mesh Width: 650 – 3,800 mm
Applications of Concrete Reinforcing Mesh
1. Reinforcement of road surfaces or parking areas, such as concrete sidewalks, floor blocks, residential floor slabs, and foundations.
2. Reinforcement of concrete structures in building, for example, reinforcement of hollow panels, wall body, or supporting wall; ground for tunnels, bridges, highway, etc. It can increase the strength of concrete structures.
3. Other uses, such as manufacturing fences or frames, gabions, etc.
Why Use Galvanized Wire Mesh for Concrete?
Welded galvanized wire mesh is able to control concrete cracking. Also, it can evenly distribute structural weight throughout. More than that, it is also easy and quick to install, which will reduce labor hours and installation costs. That's why galvanised concrete mesh is very popular in construction.
Futures of Galvanised Reinforcing Mesh
Galvanised steel reinforcing mesh offers many advantages, for example,
1. High Strength & Good Stability
Galvanized reinforcing mesh uses high-strength steel wire so that it can withstand great pressure and doesn't deform easily. That's why it is widely used in the construction industry.
2. Excellent Corrosion Resistance
Through hot-dip galvanizing or electro-galvanizing, there is a zinc layer that protects the steel surface from corrosion and rust. The excellent corrosion resistance will prolong its service life.
3. Easy to Install.
Galvanised reinforcing mesh is light in weight, and it is easy to put in the desired position, which makes it easy and quick to install.
4. Cost-Effective Solution.
Generally, it is more affordable than rebar. Besides, due to its great anti-corrosion properties, it can be used in various applications including outdoor environments for a long time. The long service life also makes it cost-effective.
Galvanised Reinforcing Mesh Price
The price of steel wire mesh is influenced by many factors, such as the wire gauge, material, zinc coating thickness, etc. Galvanized reinforcing mesh is welded mesh sheet, which is made up of high tensile strength wires. You can choose according to the use purposes and environment. But generally speaking, welded wire meshes are economical. Aside from construction projects, it can be also used in enclosures and safety guards, etc. It means it is also promising to invest in. Wanzhi Steel is a top steel wire mesh manufacturer in China, which will offer you a cheap price and discounts for bulk orders. Welcome to contact us for the latest price.
What to Consider Before Choosing?
1. Wire diameter, mesh size, and weight
2. Steel stiffness and strength
3. Concrete production process and compatibility
As an investor, you need to choose according to the local market. Wanzhi Steel stocks a wide selection of galvanized reinforcing meshes. For more information, please contact us.
Conclusion
The galvanized reinforcing mesh is galvanized so that it is very durable. It is suitable for outdoor or underground uses. The galvanized wire mesh for concrete allows a certain amount of shaping of concrete. At Wanzhi Steel, the wire mesh comes in square and rectangular openings and is available in a wide range of specifications. Also, we will offer custom solutions to better meet your needs. If you are looking to make your projects more durable and cost-effective, please contact us for more information.