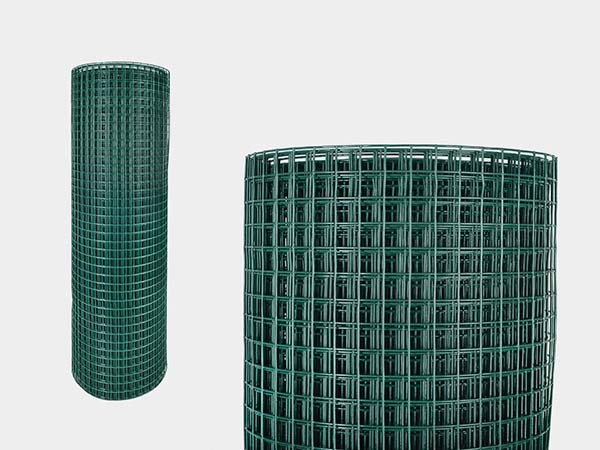 PVC Coated Hardware Cloth
---
Material: Galvanized steel wire, PVC-coated wire
Opening Shape: Square, rectangular
Aperture: 1/4″-3″
Wire Diameter: 0.5-4 mm
Popular Colors: Green, black, white, etc.
---
PVC Coated Hardware Cloth
PVC coated hardware cloth offers a versatile and economical option for many applications, such as rabbit fences, gutter guards, vegetable garden, and much more. Besides, the plastic coating makes it more corrosion & weather resistant, and also offers more color options, such as green, black, etc. At Wanzhi Steel, our hardware cloth is available in a large range of gauges and sizes to meet your needs. Welcome to contact us for more details!
Vinyl Coated Hardware Cloth for Sale
| | |
| --- | --- |
| Item | PVC Coated Hardware Cloth |
| Material | Galvanized steel wire, PVC-coated wire |
| Opening Shape | Square, rectangular |
| Opening Sizes | 1/4″-3″ |
| Wire Diameter | 0.5-4 mm |
| Popular Colors | Green, black, white, blue, red, gray, etc. |
| Surface Treatment | PVC-coated,hot-dip galvanized, Electro galvanized |
| Package | In roll, waterproof kraft paper inside, woven bags or plastic film outside |
What Is Plastic Hardware Cloth?
PVC coated hardware cloth is kind of steel wire mesh with square or rectangular grids. At Wanzhi Steel, the PVC hardware cloth is made of galvanized steel wires and then be coated with vinyl. The double coating provides excellent rust resistance and long service life. Moreover, it can be easily cut with scissors, molded or folded as needed.
Advantages
1. Lightweight, Easy to transport, cut or install
2. Excellent rust resistance, PVC and zinc coating offers double protection
3. Sturdy construction & Flexible design
4. Multipurpose function, ideal for animal control, crafts and guards, protective covers, etc.
5. Smooth surface & Uniformly welded mesh
6. Various color options, such as green, black, white, blue, red, gray, etc.
Applications
Due to its strong and durable construction, plastic coated hardware cloth has an unlimited number of applications around the outdoor and indoor places. Let's have a look.
1. Building & Construction:  insulation, ventilation, gutter guards & roofing, soffit screen, and in stucco, ceilings and tile installation.
2. Animal Control: poultry cages, rabbit fences, bird cages, chicken coops, duck pen, and also keep snakes, gopher, skunk, chipmunks away.
3. Borders or Boundaries for walkways, garden paths, composting enclosure, plant and flower beds, vegetable garden, etc.
4. Security Fencing: window covers, screen doors, farm fences, residential area fences, garden fencing, etc.
5. Other uses: crafts, filter, screen, storage baskets, ect.
Wanzhi Steel – A Reliable Hardware Cloth Provider
Wanzhi Steel has about 20 years' experience in manufacturing metal wires & meshes. After two decades of improvement and development, the factory production line now is efficient and standardized. And all workers are skilled to ensure that the quality of our products is second to none.
As a reliable seller, we always insist on the consistent quality, order flexibility and superior service. We make every effort to save our customers' time and money by providing good wire and mesh products at competitive prices and help our customers occupy more markets in their local markets. And we are always looking forward to cooperating with you!
Conclusion
Vinyl coated hardware cloth is lightweight and easy to cut with scissor. But it also has sturdy structure that offers a versatile and economical option for a wide range of applications. Wanzhi Steel offers a variety of hardware cloth in different materials, hole shapes, sizes to fit your unique situations. Moreover, quantity discounts are available for multiple roll purchases. Welcome to fill out our contact form to contact us!